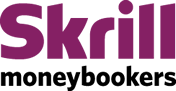 We are pleased to now offer the Skrill (formerly Moneybookers) deposit and withdrawal method for transactions with Silver Sands Casino.
This method offers our players a quick and easy solution to credit their Silver Sands Casino account as well as request a withdrawal back to the Skrill account from which they have deposited.
Payments with Skrill are secure and instant with the account creation procedure only taking a few minutes.
Simply visit http://www.moneybookers.com/app/ and create an account.
Should you have any queries you can simply contact Skrill customer support through your account's support centre section.
Once a Skrill withdrawal has been processed by our accounts department these funds will be available in your Skrill account immediately. There is no period of delay.
Skrill accepts over 100 different payment methods in order to credit your account, from the usual credit and debit cards to the more specialised local payment options as well as instant bank transfers.
Skrill (Moneybookers) provides you with a method to send and receive money simply, conveniently and instantly around the world. All you need is the recipients email address and you can transfer funds instantaneously.
Important Note:
*NO cash / 3rd party deposits are accepted by Skrill*
Due to anti-money laundering regulations Skrill CANNOT ACCEPT cash deposits or bank transfers
made by any parties other than the Skrill account holder. Skrill will make NO EXCEPTION to this rule. The account holder WILL BE CHARGED all banking and administrative costs to return any such payment.
Skrill account holders will need to instruct the transfer themselves! Skrill will NOT make a direct debit from the account holder's bank account. The account holder will have to create and authorize all payments to the above banking account held by Skrill.
If you have chosen the wire transfer method and have decided to place an eft/wire payment to the Skrill banking account in order to credit your Skrill account, the transaction will take anything from 2 to 5 working days to reflect in your Skrill account balance. Once these funds have reflected in your Skrill account your deposit to Silver Sands will be automatically deducted and credited to your Casino account as this transaction would have remained in a pending state awaiting the funds. The details for the Skrill banking account you can use to credit your account with Skrill can be obtained from the Skrill website from the Upload Funds tab in the Bank Transfer option.
Should you wish for your deposits made via Skrill to reflect in your Casino account immediately you would either need to link a credit card to your Skrill account where the funds can be deducted immediately or you would need to have available funds in your Skrill account.
Please note that Skrill/Moneybookers is an E-Wallet and you can use your account for any kind of transaction on the internet that accepts the Moneybookers/Skrill method.